How Are We Fighting COVID - 19
As the whole nation comes together to fight against COVID 19, we understand the need of the hour and leave no stone unturned in reaching the citizens of this nations with quality products like edible oils, rice, wheat flour, pulses etc. As a socially responsible company, we have contributed to various movements across the nation.
Precisely, at Adani Wilmar, we have distributed more than 25,000 litre edible oil and large quantities of food grains for free among people living in the vicinity of its factories in Mundra and other locations. Free food is being served to the needy, and food packets distributed among truck drivers and workers at its plants in Mundra, Haldia, Mantralayam, Bundi, Mangalore, Lucknow, and at several other locations. Food kits, containing flour, rice, and pulses, have also been distributed.
We have reached out with grains, pulses, atta, and over 20,000 litre oil to several community kitchens being run under CM relief programme and through local administrations in Gujarat, UP, Gurgaon, Nagpur, etc. at highly subsidized rates, and have donated more than 1,000 bottles of oil to the Vidisha administration in Madhya Pradesh for helping the needy.
While working in tandem with Adani Foundation's various initiatives, AWL has distributed edible oil and food essentials. We have provided 10,000 litre oil at subsidized rates to community kitchens.
Additionally, we are working closely with a number of NGOs, charity organizations, and religious institutions to ensure uninterrupted supply of essential food essentials at subsidized rates to them.
Some of these organizations include Akshaya Patra Foundation which has distributed more than 41 lakh cooked meals and 2.14 lakh food kits, Hare Krishna Movement, FeedingIndia.org by Zomato, Food for Good by Rebel Foods, Taj Group of Hotels, Art of Living, Panchshil Foundation, Stri Shakti, Nagpur Memon Jamat, and Kutchi Memon Masjid, among others.
Additionally, we are working closely with a number of NGOs, charity organizations, and religious institutions to ensure uninterrupted supply of essential food essentials at subsidized rates to them.
In Mumbai, AWL has also distributed 25,000 packets of Khichdi through Solvent Extraction Association of India (SEA), for migrant labourers which can serve 1 lakh meals for free.
Coronavirus is a serious challenge and has taken a heavy toll on the economy while killing hundreds of people. The government and other agencies have been doing their bit to tackle Coronavirus. At Adani Wilmar, we are proud of our employees who have contributed one day salary for this noble cause and provided required thrust to this fight against Coronavirus
Be it providing safety kits to the police personnel, daily wagers, truck drivers or providing the essential grocery items to the underprivileged, we have covered all. 'Food for All' is our mission and being in food industry we will accomplish it with our quality products at comforting rates and timely delivered across the nation.
Read more
Testimonials
"While the nation is fighting against Coronavirus, it certainly becomes the duty of every citizen to support the people who are in need and ensure that they don't stay hungry. We are glad that in this mission against hunger during these tough times, we have Adani Wilmar at our side with its quality Fortune products being timely delivered to us, our current status is we have serve cooked meals 41.2 lacs and food relief kits 2.14 lacs"

Vishwas Ujire, Head National Sourcing-Akshaya Patra
"With Adani Wilmar providing us with rice, a staple in most of our states at subsidised rates, we have already distributed supplies to 2.3 Lakh underserved households through our 'Feed the Daily Wager' initiative. Adani Wilmar stepped up to the challenge of moving the supplies during the crucial period"

Chandan Mendiratta, Head, FeedingIndia.org
"There are several citizens of our nation who need proper meal or food products on immediate basis. We are constantly putting efforts to reach such population with quality products like those provided by Fortune. Their timely delivery of products helps us to act faster and serve the needy"

Ankur Sharma, Senior Vice President- Supply Chain & NPD, Food for Good Campaign by Rebel Foods.
"We have been working with Adani Wilmar among others to supply ingredients to over 7000 restaurants across Delhi and Bangalore for more than a year now. While we usually manage supply to restaurants, recently we have been utilizing our supply network to facilitate NGOs with their essential ration needs, to thereby manage distribution to the underprivileged. It's great to see a valuable partner ensuring affordable supplies in the current times of curtailment."

Himanshu Kalra, Business Head, Hyperpure at Zomato
"At YMCA we're providing food to officials who are taking care of whole Delhi city, fortune with its Edible Oil & Rice availability helping us in our motive well within stipulated time"

Danny Mathews, Purchase Team, YMCA Delhi.
How You Can Reach Us:
As we are relentlessly putting our efforts to meet the demands of several NGOs, Religious Institutions, Food Distribution Channels etc., we are eager to hear from you. We assure you an immediate response with a promise to timely deliver quality food products and edible oils at comforting rates.
Write to us at fightingcovid@adaniwilmar.in
Malnutrition & Anaemia – A Global Concern
United Nation's Sustainable Development Goal (2.2) envisages to end all forms of malnutrition, including achieving by 2025, the internationally agreed targets on stunting & wasting in children under 5 years of age and address the nutritional needs of adolescent girls, pregnant and lactating women and older person.
India suffers with one of the serious issues of child malnutrition in present time. Although the country has witnessed significant progress in its battle against child malnutrition over the past decades, the progress has been quite uneven. Nearly every third child in India is undernourished. The prevalence of Anaemia amongst children, adolescent girls and women is equally worrisome. More than half of women of India in age group of 15-49 years suffer from Iron deficiency Anaemia, which is mainly due to inadequate nutrient diet.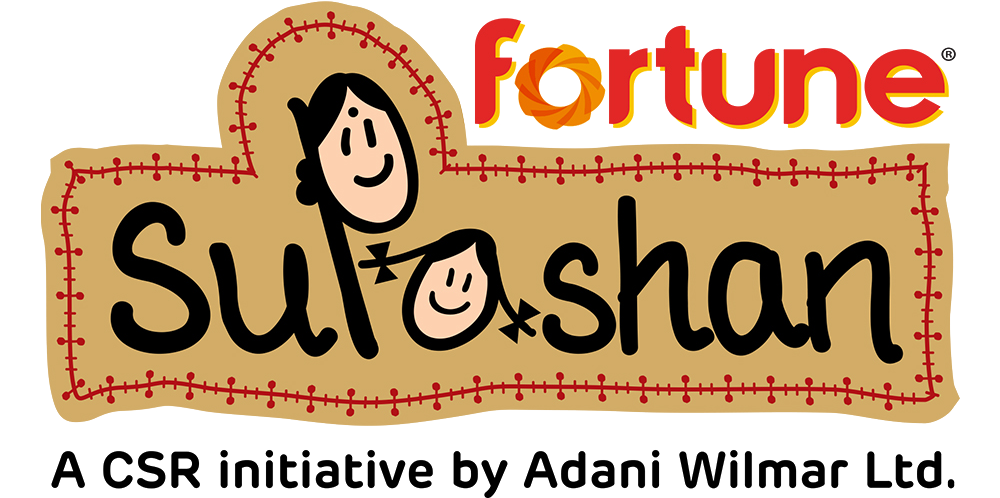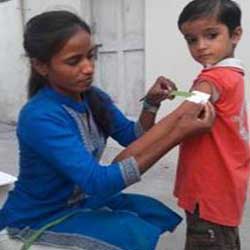 SuPoshan - Initiative By Adani Wilmar Limited For Creating A Well-Nourished India
For any country to be 'Healthy', the primary objective which needs to be looked into, is Nutrition which people get through various foods available in the country. At Adani Wilmar Limited (AWL), we have decided that by keeping a larger objective in mind i.e. 'For a Healthy Growing Nation', we look forward to touching life of every Indian and enabling to live life fully, thereby making India stronger, healthier and more productive. AWL has associated with Adani Foundation, the CSR arm of Adani Group in the quest against malnutrition and anaemia among the target groups which include children from 0-5 years age group, adolescent girls and women in reproductive age at various locations in the country as a part of 'Corporate Social Responsibility' initiatives.
---
Sangini – Health Buddy / A Change Agent
Suposhan identifies and nurtures capacity of Sanginis – a village health volunteers that play a pivotal role in spreading awareness and promoting behaviour change at family and community. Sangini is a woman from the village, trained under the 'SuPoshan' project. They work in tandem with existing government health functionaries at village level for realising benefits of exiting government schemes, particularly 'Integrated Child development Scheme' (ICDS) and services of Health and Family Welfare. Through Sanginis, the project takes curative and preventives actions, including awareness generation.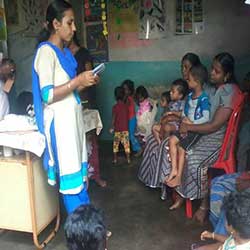 SuPoshan Journey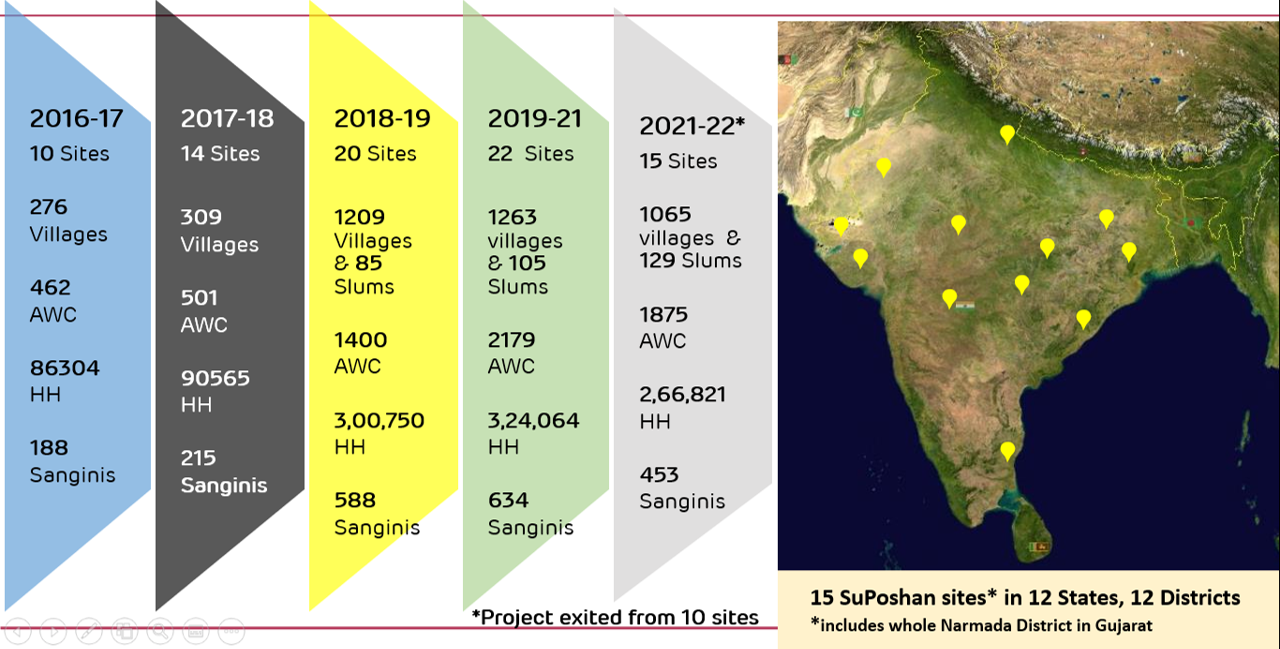 SuPoshan Objectives
Improving health & nutrition status of acute malnourished children up to 5 years of age with timely identification and curative action

Strengthening

health & nutrition status of children, adolescent girls, pregnant & lactating women

Creating a pool of sustainable resources at the community level

Instilling positive knowledge for appropriate behavior change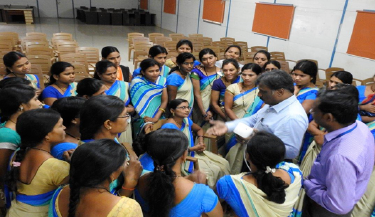 Selecting and empowering Sanginis – a village level resource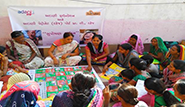 Putting together & Use Information, Education & Communication (IEC) material for Malnutrition and Anaemia for behavioral change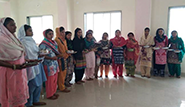 Curative and Preventive activities with & for Target Groups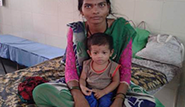 Making the Government Schemes acknowledged, accessible and accepted
A Glimpse Of SuPoshan Project